UNC Hospitals Use Interactive TV to Improve the
Patient Experience During COVID-19 Pandemic
When new protocols to preserve PPE and visitor restrictions left patients feeling isolated, UNC Hospitals found creative ways to meet their patients' needs for connection, comfort, and communication with in-room TV.
UNC Hospitals
NOTE: In April 2022 TeleHealth Services was rebranded under the name of our sister company, Avidex. The consolidation of our brands significantly enhances our capabilities to create better experiences for patients, visitors, and staff. Case studies may have been written under our former name, but now reflect the Avidex brand.
Solutions Implemented
Tigr Interactive Patient Engagement
Solution with StaffConnect

With video-on-demand & 16-Tigr channels

LG Healthcare Grade HD Televisions
Customer Success Management
Avidex 360° Service
Custom-produced video content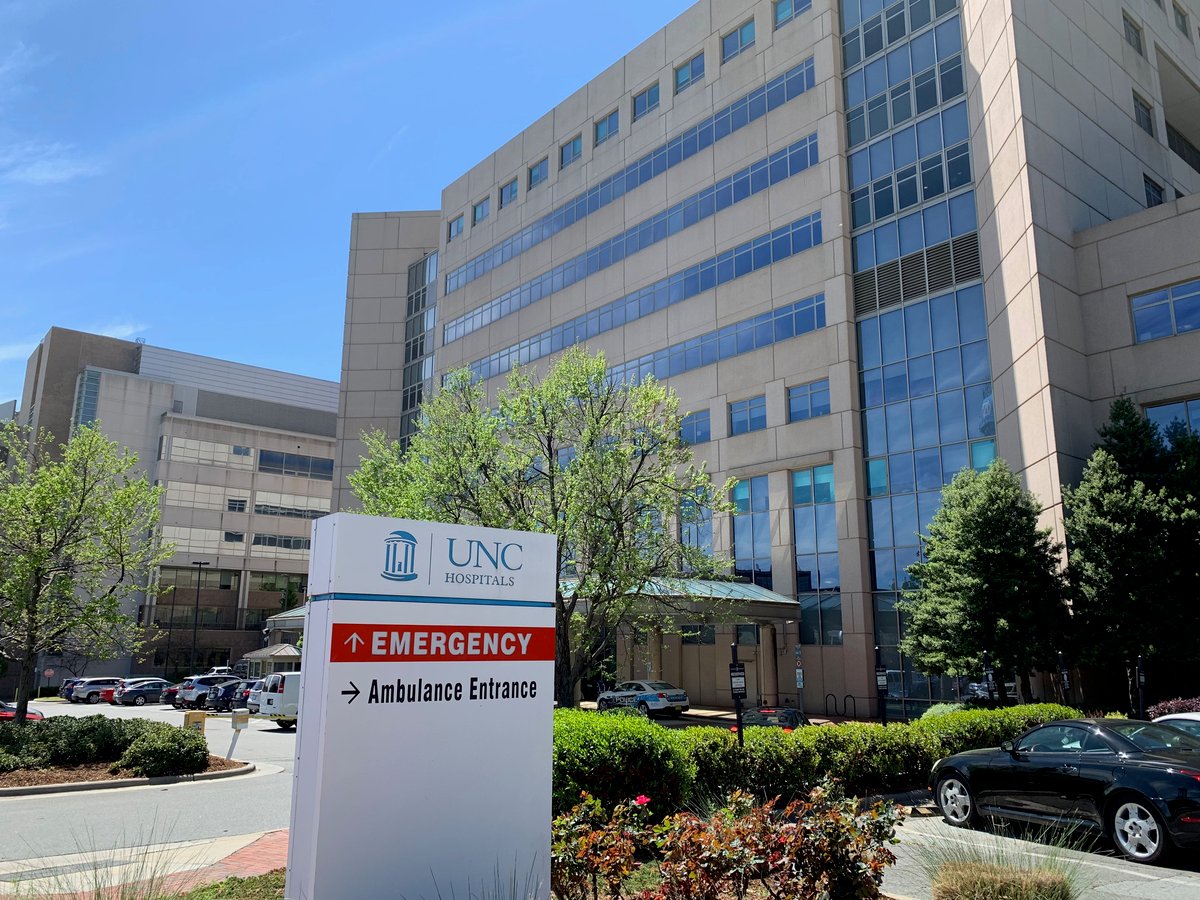 The Challenge
With the arrival of the COVID-19 pandemic in the spring of 2020, UNC Hospitals responded swiftly with protective measures. Visitor restrictions were enacted to limit the volume and frequency of guests in inpatient rooms. Patient care protocols were modified to preserve PPE, which in turn limited staff interaction at the bedside to essential care. While these operational changes were necessary for the safety of patients and staff, they were not without challenges – particularly for the patient experience.
"COVID-19 has introduced new stressors for patients," says Tracy Carroll, Director of Inpatient Heart and Vascular Services and Liaison for the Patient Education Committee. "Normally, there are more people in and out of hospital rooms. Now staff enter less frequently, and are in full PPE for COVID patients. They can't see our faces, which can make for an unsettling visual – especially for those who are confused or anxious."

Jodie Skoff, Volunteer Coordinator, emphasizes the effect of visitor restrictions. "When the pandemic began, we limited patients to one guest in the room at all times – which in turn limited a major source of distraction, entertainment, and comfort. It was a big change for patients." Recent research on visitor restrictions enacted due to COVID echoes Ms. Skoff's observations. In one study on COVID visitor restrictions, 84.5% of hospitalized surgical patients who had visitors reported that their visitors provided psychosocial support, whereas lack of psychosocial support from visitors was commonly cited by patients in the no-visitor cohort (50.8%).1 The majority of patients surveyed in the same study expressed feelings of loneliness and isolation due to a lack of visitors, highlighting the need for different strategies to meet patients' psychosocial needs. At UNC Hospitals, Ms. Carroll, Ms. Skoff, and several of their colleagues took the challenge to task, identifying opportunities to leverage a resource that was already available in inpatient rooms – the television.


The Solution
A qualitative study in the Health Environments Research & Design Journal ranked television as the #1 source for positive distraction during hospitalization, with 78% of patients surveyed reporting it as their top choice for distraction.2 As the most watched space in the hospital room, TV was a logical tool for improving the patient experience at UNC Hospitals.

"TV helps with distraction by providing entertainment," says Ms. Skoff. "Unfortunately, a lot of that entertainment is not helpful for a person in the hospital. If a patient falls asleep watching a crime drama, then wakes up disoriented, the last thing they might remember is the disturbing image of someone pointing a gun. What you watch becomes your reality. We wanted to offer more positive options; more things to watch that would bring joy."
UNC Hospitals had an additional resource in their TIGR Interactive Patient Engagement System, with video on-demand functionality and a 16-channel lineup to broadcast content to inpatient rooms. As the system housed a health video library, it had been used primarily for patient education prior to the pandemic. With the arrival of COVID-19 and the subsequent impacts to the patient experience, interest shifted to exploring creative uses of the system.

Connection and Cheer
The disruption to regular visitation affected patients throughout UNC Hospitals, but had an especially deep impact for patients in the Geriatric unit at the Hillsborough campus. "Hospital volunteers regularly visited the unit and would come in to chat with patients who wanted company," says Ms. Skoff. "For some patients, volunteers were the only visitors they had coming to see them." With the arrival of COVID, onsite volunteer visits were temporarily suspended as a safety measure. Patients and staff immediately felt their absence.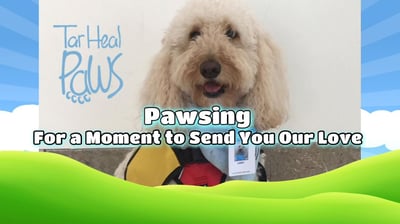 Some of our most beloved volunteers are the four-legged ones," says Ms. Skoff, referring to UNC Hospital's Tar Heal Paws animal-assisted activity program, serving both UNC Hospital's Main campus in Chapel Hill and the nearby Hillsborough campus. Ms. Skoff reached out to the Tar Heal Paws volunteers, requesting pictures and videos of the dogs to share with patients and staff who were missing their visits. The volunteers delivered, flooding Ms. Skoff's inbox with heartwarming messages and candid shots of the dogs. The images were later assembled into a video and made available for viewing through the TIGR system. According to Ms. Skoff, the video has been warmly received by patients she has shared it with at the Hillsborough campus. "Recently I went into the room of a patient who woke up confused, thinking that there had been a dog in the room," she explains. "I asked her if she liked dogs and she said yes, so I turned the TV to our Tar Heal Paws video. She recognized one of the dogs and called it by its name. It was so nice to be able to offer that as a distraction."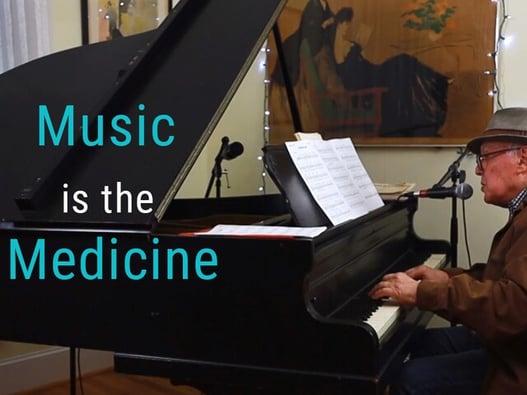 Equally missed by patients and staff were the performing artists of the UNC DooR to DooR program, featured in the award-winning documentary "The Acoustics of Care." The program's artists would visit UNC Hospitals to share live music, storytelling, and other therapeutic experiences with the arts. When COVID-19 restrictions were implemented in the spring of 2020, the program shifted from indoor performances to daily concerts in a corner of the hospital's parking garage, which served to amplify the music so it could be heard inside the hospital. While the artists were committed to a continued presence for patients and staff throughout the pandemic, the arrival of lower temperatures and winter weather later in the year called for a different approach.
In November, the DooR to DooR program recorded a two-hour concert – 'Music is the Medicine' - featuring the hospital's most beloved and requested performers. The concert was added to the TIGR system so patients and staff could view the concert in the comfort of their rooms, and the familiar tunes of the local performers could fill the hallways once again. "I truly believe people get better by the chemicals that are running around the body when you're feeling happy or energized.....curious or
surprised… and that's what our artists bring," states Joy Javits, Founder of DooR to DooR. "Until we can return to live performances, you can find our artists sharing their gifts and helping patients heal, right in front of them on their in-room televisions."
At the UNC Children's Hospital, the UNC Hospital School serves to help children stay on track academically throughout a hospitalization. With restrictions limiting bedside visits, the pandemic has challenged schoolteachers to make greater use of technology to connect with patients. "Younger students have some challenges with using tablets, especially if there isn't a caregiver present to help them," explains Marny Ruben, Principal of UNC Hospital School. "We were excited to learn that we had the opportunity to use the in-room TV to engage with those younger children." Ms. Ruben's team of teachers and the school librarian recorded dozens of videos of themselves reading books from the Hospital School's library, then delivered to them to students through the TIGR system.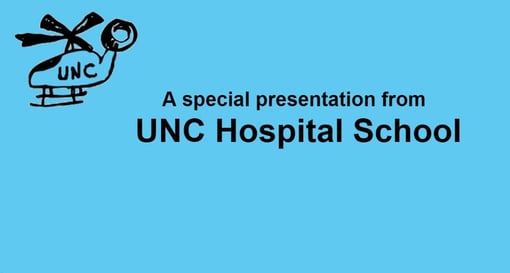 "I had a student with profound disabilities who is usually hospitalized a couple times a year for a week or more at a time," shared one of the Hospital School's teachers. "She loves when her parents read to her. They were very grateful when I told them they could just turn on the TV and have streaming books read to her." Positive feedback came directly from parents as well. "The stories were a godsend," said the parents of another patient. "When she didn't feel well enough to do anything or even talk to anyone, she could just watch and listen to stories on TV. I could tell it helped her not be so worried or focused on her pain."
Relaxation and Sleep
Historically, noise has been the #1 patient complaint for U.S. hospitals, with sleep disruption reported as one of the most troublesome effects.3 In recent years, UNC Hospitals has made significant strides with measures such as scheduled nightly quiet hours, rounding with 'words and ways that work', dimming lights, and replacing squeaky wheels on equipment.4 The arrival of the COVID-19 pandemic, however, presented a whole new set of challenges for patients trying to get a good night's sleep. Findings from a recent study on the acute impact of the pandemic on sleep and psychological symptoms revealed very high rates of clinically significant insomnia among adults.5

"We often hear from patients that when they have trouble sleeping at home, they use white noise to relax," states Ms. Carroll. "We wanted to be able to provide the same experience in the hospital, so we implemented content on TIGR designed to promote sleep. The screen is darkened to keep lighting low in the patient's room, and ambient sounds play through the TV to mask hospital noise and soothe patients into a relaxed state." In a pilot test, Ms. Carroll and her team began offering the sleep content to patients in the evenings. "We gave them a choice of rainfall or ocean waves," she explains. "The natural sounds offered a white noise effect." Initially, the sleep content was scheduled to run nightly, with a switch to nature-themed relaxation videos during the daytime. "Feedback was so positive that shortly after the launch, patients were asking for the programming to be available during the daytime as well. We now run our two 'Sleep Sounds' channels 24 hours a day. Not only do they help with rest and relaxation on our inpatient units; staff on procedural units have found them to be helpful in calming anxious patients during procedures."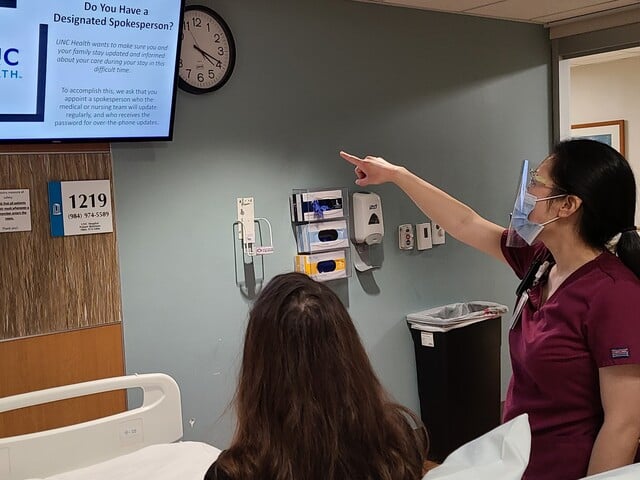 Engaging and Educating Patients
The Labor and Delivery Department at UNC Women's Hospital also faced its share of challenges once COVID-19 protocols restricted bedside contact between staff and patients. "Prior to the pandemic, nurses were constantly in and out of the room throughout a patient's labor and delivery to demonstrate birthing positions, and to remind them to move often," states Kara Robinson, R.N. As movement is a natural response to pain during labor and supports the process of a natural childbirth, frequent changing of positions during labor lessens the chance that a C-section will be needed, and reduces the risk of complications for both mother and baby.6

Historically, handouts and posters were placed in the room to provide patients with quick access to information and visuals to reinforce the education that clinicians had delivered. Per the hospital's COVID19 response, new guidance called for limiting paper materials in the patient room for infection control purposes. As nurses on the unit considered different approaches for delivering patient education, Ms. Robinson looked to video education via the in-room TV as the answer. When staff couldn't locate commercially produced content that addressed the teaching needs, they teamed up to create their own. Their 10-minute video demonstrates more than 30 different birthing and labor positions with detailed descriptions in both English and Spanish.
"When a patient is admitted to the room, we turn on the TV and play the pushing positions video through the TIGR system," states Ms. Robinson. "We tell them the purpose of the video and explain why changing positions frequently is important." Feedback on the video has been positive from patients and staff alike. "Nurses like that they can empower patients with education. Patients appreciate that it's available 24/7, right on their in-room TV." states Ms. Robinson.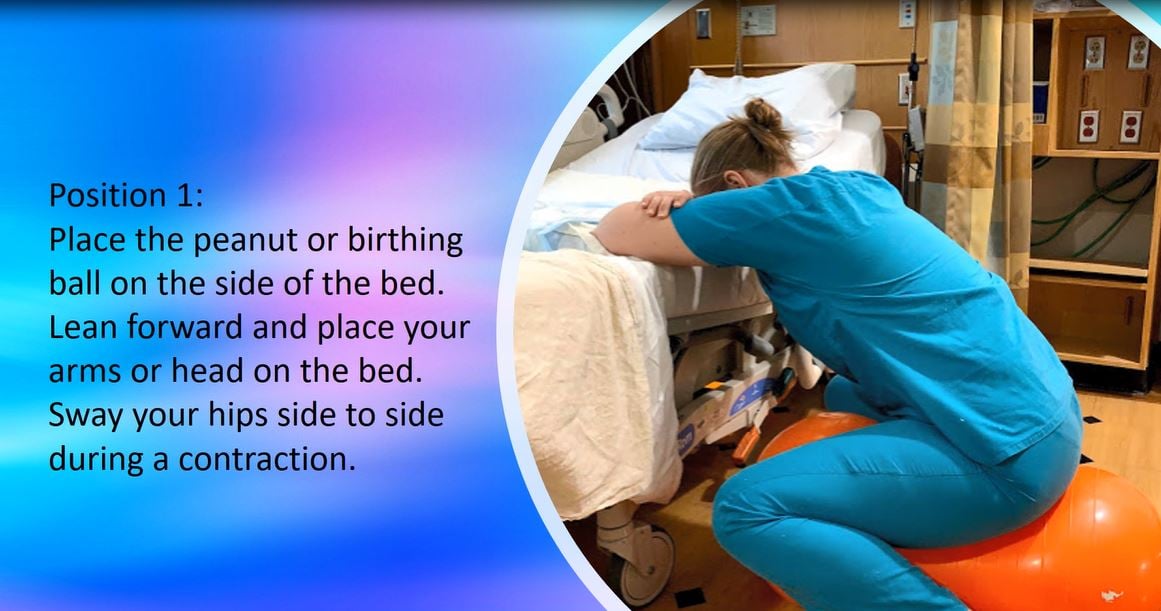 After the launch of the video, Ms. Robinson surveyed staff on the unit, finding that 90% of the respondents felt that the video was helpful in explaining the different positions to patients. Qualitative feedback from the unit's nurses was promising as well. "Staff mentioned that patients appreciated the information, the calming music, the familiar faces of staff from the unit, and that they felt involved in their care," explains Ms. Robinson. "Patient support systems said they felt they could assist their loved one into the positions or were able to provide relief of pelvic pressure as labor progressed. In addition, patients who tested positive for COVID had access to the same resource."
The Labor and Delivery Unit's success with a video-based education approach was recognized by the Perinatal Quality Collaborative of North Carolina in a publication about reducing primary C-section rates after a spike was observed during the COVID-19 pandemic. In addition, Ms. Robinson was nominated for an Emerging Nurse Leader Award for her leadership of the project and the outcomes observed.

UNC Hospital's Diabetes Care and Education Specialists, when faced with the same challenges of educating patients under pandemic protocols, considered how video education might help them make the most of their time at the bedside. Hope Williams, Diabetes Certified Nurse and Education Specialist, reviewed the hospital's video library to identify titles that could best address the needs of inpatients and created curricula (video bundles) by topic. When more specific instruction was needed, the team created their own videos to familiarize patients with skills they would need to learn to use glucose meters and insulin pens.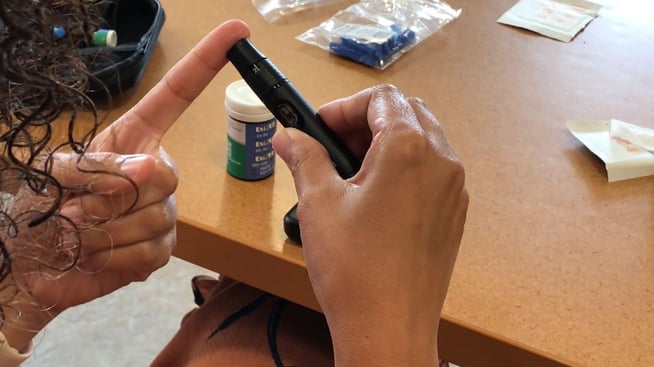 Using the workstation-based TIGR StaffConnect dashboard, Ms. Williams and her team have been able to assign patient-specific education and start videos remotely for patients to watch on their in-room televisions prior to education consults. "I find having the patients watch videos using TIGR prior to our meetings to be really helpful," says Ms. Williams. "They help me save time by familiarizing patients with the basics, and I can better individualize their patient education at the bedside. We can spend more time with the topics that matter most to them." A recently published article about the transition to a largely virtual model for inpatient diabetes care at UNC Hospitals suggests that creative technology solutions have been successful, concluding that "virtual care is feasible and can provide similar outcomes."7
What's Next
"One of the good things about the pandemic is that it has shown us just how much we can do virtually," says Ms. Carroll. As UNC Hospital's TIGR has the capacity to host custom-produced content and the capability to deliver it on-demand, on schedule, or looped on a channel, the system offers the flexibility to quickly respond to changing needs and priorities – throughout the pandemic and beyond. "There's a lot more we want to do," states Ms. Carroll.

The DooR to DooR program is actively soliciting new video performances from their artists to add to the
TIGR system so that patients will have an ever-growing library of music and artistic content to enjoy. Ms. Javits is also thinking about how the program can virtually bring music and the arts to patients in more focused, personalized ways. "Sometimes patients are hospitalized during their birthday," she reflects. "We'd love to be able to honor them with a performance of the birthday song."

Ms. Skoff continues to collect heartwarming pictures and videos of the beloved therapy dogs with the hopes that there may be a Tar Heal Paws version 2 video at some point in the near future. "There were so many secondary gains from the video," she shares. "It brought joy to patients and staff, but it also ended up being a good thing for our volunteers. When they had to stop visiting on-site, they still wanted to contribute and be involved in some way. This gave them something meaningful to do – and it truly does mean a lot to our patients."

Ms. Carroll echoed the impact of pet therapy via television at the UNC Medical Center. "Recently, I played the video for one patient who told me 'this really made me miss my dog. I need to get back home and take care of him. Thank you for helping me realize my purpose in life.' He recovered and was discharged to home a couple of weeks later."

Planning is underway for yet another special project, which involves staff on Ms.Carroll's team posing for "before" and "after" pictures in their PPE. "We want to have pictures of the care team on TV so that patients can see our faces. Just recently, a patient we discharged wrote us a very nice letter that said, 'I don't know what you look like, but I know all of your stories.' We want to be able to show our patients the faces behind our stories," says Ms. Carroll. "We're living through a pandemic, and so much of what you see on TV is stressful and negative. It's so nice to be able to turn on the TV and show patients something positive."
Sources
1. Zeh, Ryan D et al. "Impact of visitor restriction rules on the postoperative experience of COVID-19 negative patients undergoing surgery." Surgery vol. 168,5 (2020): 770-776. doi:10.1016/j.surg.2020.08.010

2. Ann Sloan Devlin, Cláudia Campos Andrade, and Diana Carvalho, "Qualities of Inpatient Hospital Rooms: Patients' Perspectives," HERD (U.S. National Library of Medicine, April 2016), https:// www.ncbi.nlm.nih.gov/pubmed/26666814.

3. Lagasse, J., 2017. Everybody's Top Complaint About Hospitals? Noise, According To HCAHPS Data. [online] Healthcare Finance. Available at:
<https://www.healthcarefinancenews.com/news/ everybodys-top-complaint-about-hospitals- noise-according-hcahps-data> [Accessed 27 January 2021].

4. Hedges C, Hunt C, Ball P. Quiet Time Improves the Patient Experience. J Nurs Care Qual. 2019 Jul/Sep;34(3):197-202. doi: 10.1097/ NCQ.0000000000000363. PMID: 30198951.

5. Morin CM, Carrier J. The acute effects of the COVID-19 pandemic on insomnia and psychological symptoms [published online ahead of print, 2020 Jun 6]. Sleep Med.
2020;S1389-9457(20)30261-6. doi:10.1016/j. sleep.2020.06.005

6. Ondeck M. Healthy birth practice #2: walk, move around, and change positions throughout labor. J Perinat Educ. 2014;23(4):188-193. doi:10.1891/1058-1243.23.4.188

7. Morgan S. Jones, April L. Goley, Bonnie E. Alexander, Scott B. Keller, Marie M. Caldwell, and John B. Buse. Diabetes Technology & Therapeutics. Jun 2020. 444-448. http://doi.org/10.1089/dia.2020.0206

How can we help?
Connect with one of our audiovisual experts and start creating an unforgettable AV experience today!
Get In Touch