Audiovisual Technology for Healthcare
Avidex delivers innovative and collaborative AV solutions specifically designed for the healthcare industry to improve the patient, staff, and visitor experience.
Get Started Now
AV Integration for Better Healthcare Experiences
Inside and Outside the Patient Room
The Avidex healthcare team specializes in meeting the unique needs and requirements of healthcare environments with audiovisual technology solutions that enhance the healthcare experience for patients, visitors, and staff. With decades of experience in the healthcare market and more than 2,500 hospital and healthcare clients nationwide, Avidex has a legacy of designing, integrating, supporting, and servicing complex audiovisual solutions for inside and outside of the patient room.
Our longevity in the healthcare industry has enabled us to develop longstanding, trusted relationships with our hospital and clinic customers. Collaborating with modern medical centers, together we create better healthcare experiences that drive quality metrics for patient satisfaction and clinical performance amidst an ever-changing healthcare landscape.
AV Solutions for Every Space
Healthcare organizations rely on technology to help make diagnoses, provide care, train and support staff, and keep patients and their families engaged. We offer an extensive range of quality, user-friendly, and reliable solutions that help our healthcare clients improve performance and streamline care delivery.
Digital displays and signage help to keep your visitors entertained and informed while in public spaces. Simplified content management enables streamlined delivery of customized content and branded messages to patients, visitors, and staff.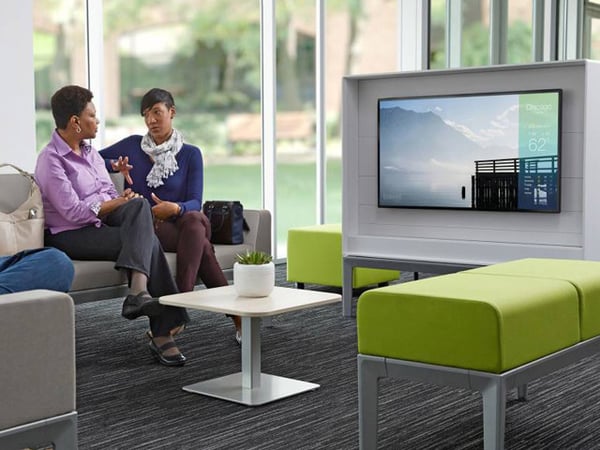 Easy to use and reliable audiovisual and unified communications equipped meeting and collaboration environments help to keep your administration and clinical teams connected, innovative, and collaborative.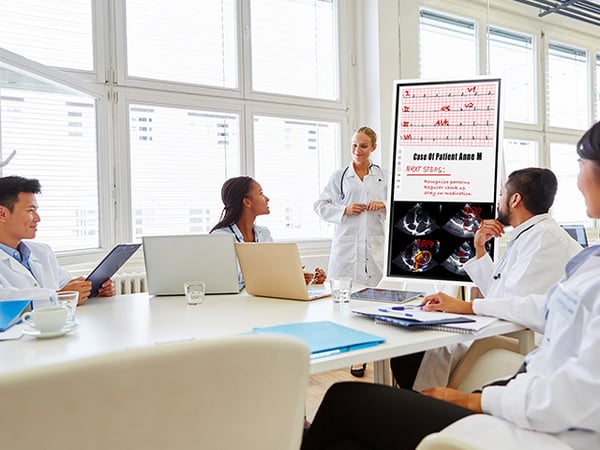 With digital signage in your cafes and cafeterias, menu items can be updated immediately. Plus strategically placed digital signage can also be used to promote menu specials and health initiatives.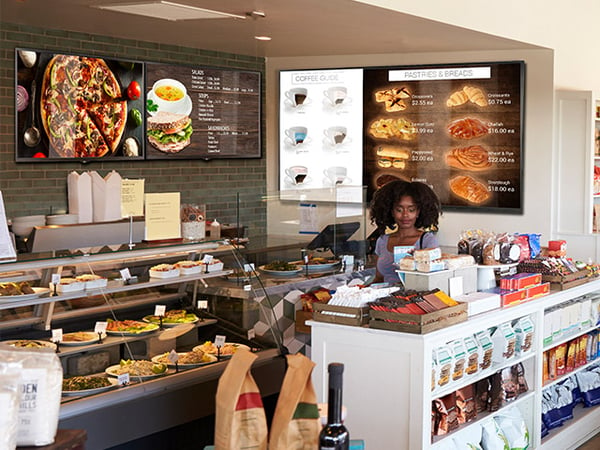 Drive care coordination and improve the overall patient and family experience with healthcare-grade patient televisions and digital patient whiteboards. Real-time information, integrated with the patient's EMR, is presented to staff, patients, and their visitors.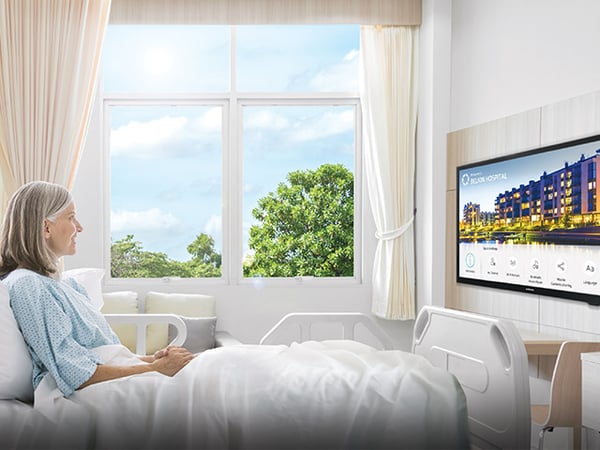 Avidex delivers unified audiovisual solutions that allow classrooms and training facilities to function flawlessly, reliably, and productively. Whether your space is to educate staff, medical students, or medical conference attendees, innovative audiovisual systems can take learning to a new level.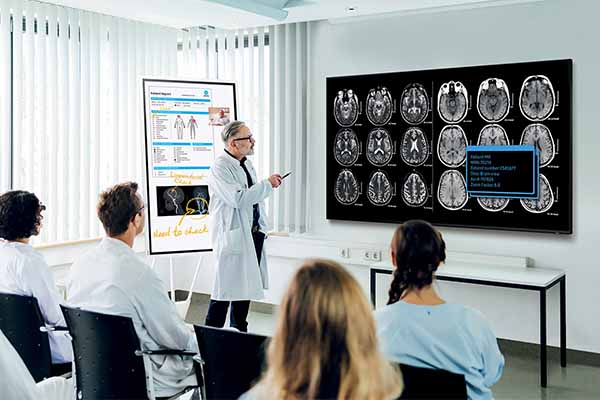 Use digital signage throughout your hallways for directions and wayfinding, meeting room scheduling, promoting public health initiatives, and conveying important facility safety messages.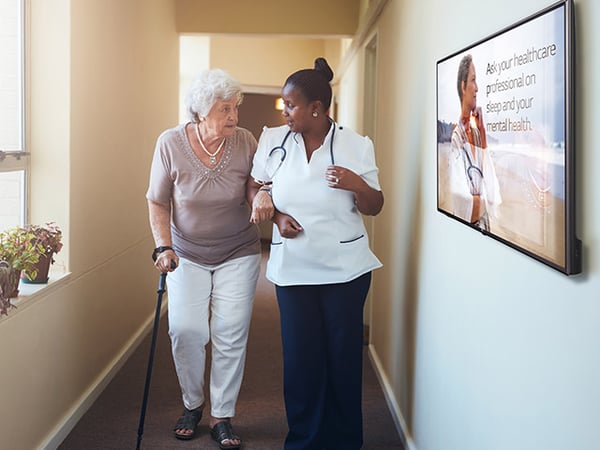 Free Guide: Empower caregivers, Engage patients, and Elevate Brands


How Digital Displays Elevate the Patient Experience—
and Streamline Critical Communications
We've teamed up with Samsung to offer this free guide with 10 opportunities for incorporating digital display technology into your healthcare design-and-build projects.
From improving the flow of clinical information to positioning your institution as the pinnacle of industry advancement, these use cases will demonstrate the power modern digital displays hold in advancing both patient outcomes and business outcomes in equal measure.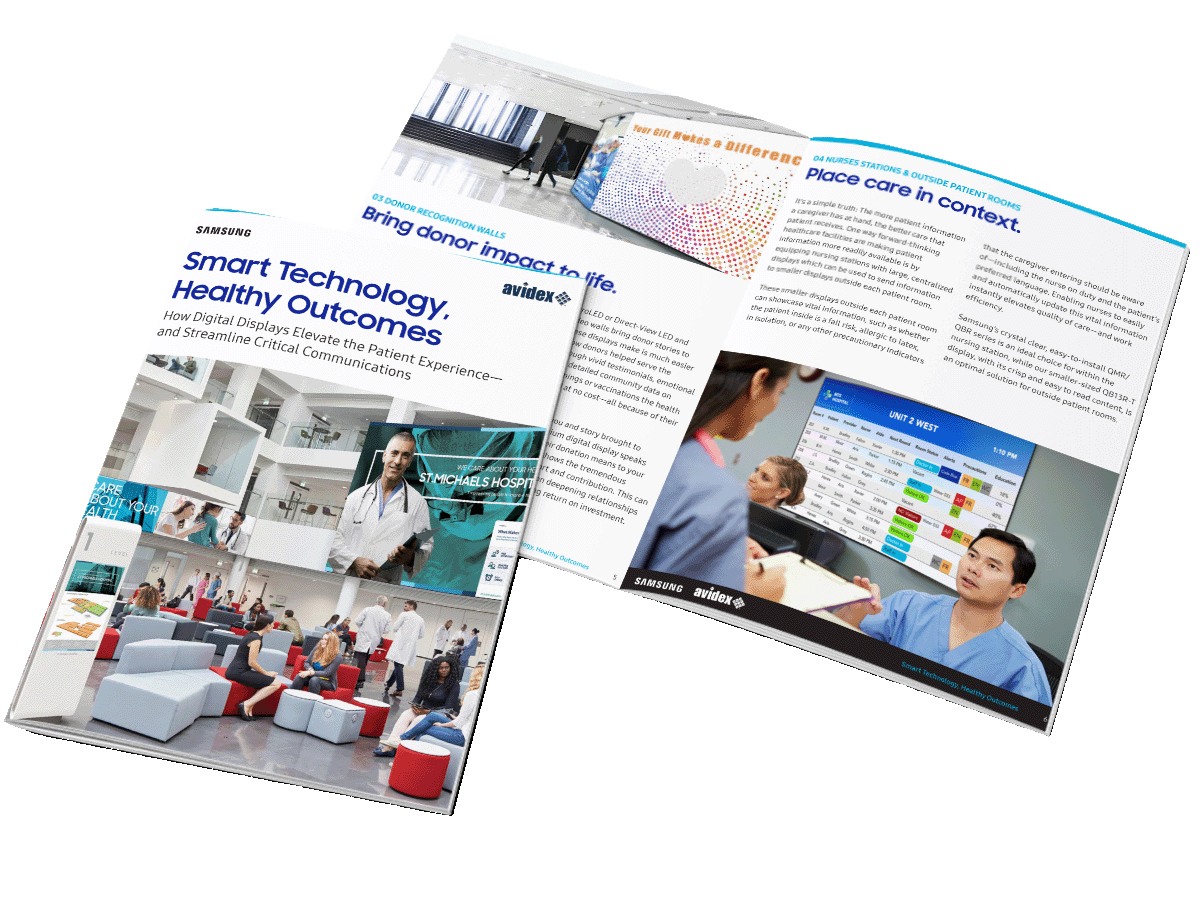 Interactive Patient Engagement
Engage, Educate, and Inform Patients
Enhance patient satisfaction, reduce readmissions, and increase hospital workflow productivity through advanced integration with your hospital's clinical and non-clinical systems. Patients and family are kept from feeling isolated through convenient access to:
On-demand information about their care
Hospital services for convenience and comfort
Video communications with their patient care team
Dedicated support with our Client Outcomes Management ensures optimum Interactive Patient System performance and demonstrable value.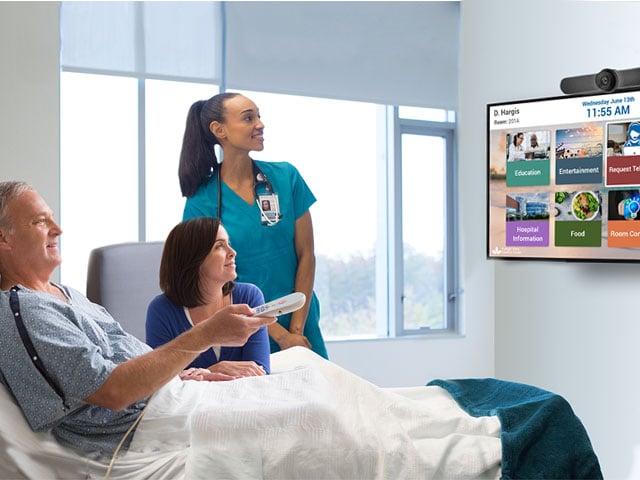 DIGITAL SIGNAGE & VIDEO WALLS
Vividly Present Your Message on A Digital Canvas
Promote your hospital's excellence in care and create a warm, welcoming environment for all those who enter your healthcare facility. Digital signage and wayfinding applications help to keep patients, visitors, and staff well informed and empowered with up-to-date information.

Use the digital canvas as an opportunity to recognize donors, or promote community health messages and services through an impactful and eye-catching visual experience. There are numerous applications for using digital displays throughout your healthcare facility.
Meeting & Conference Spaces
Quality AV Technology Fosters Greater Productivity
Healthcare facilities need meeting and conference spaces just like businesses, to connect staff and drive productivity. From large board rooms to clinical team huddle spaces, our meeting spaces are designed to quickly and easily enable collaboration for in-person and hybrid meetings.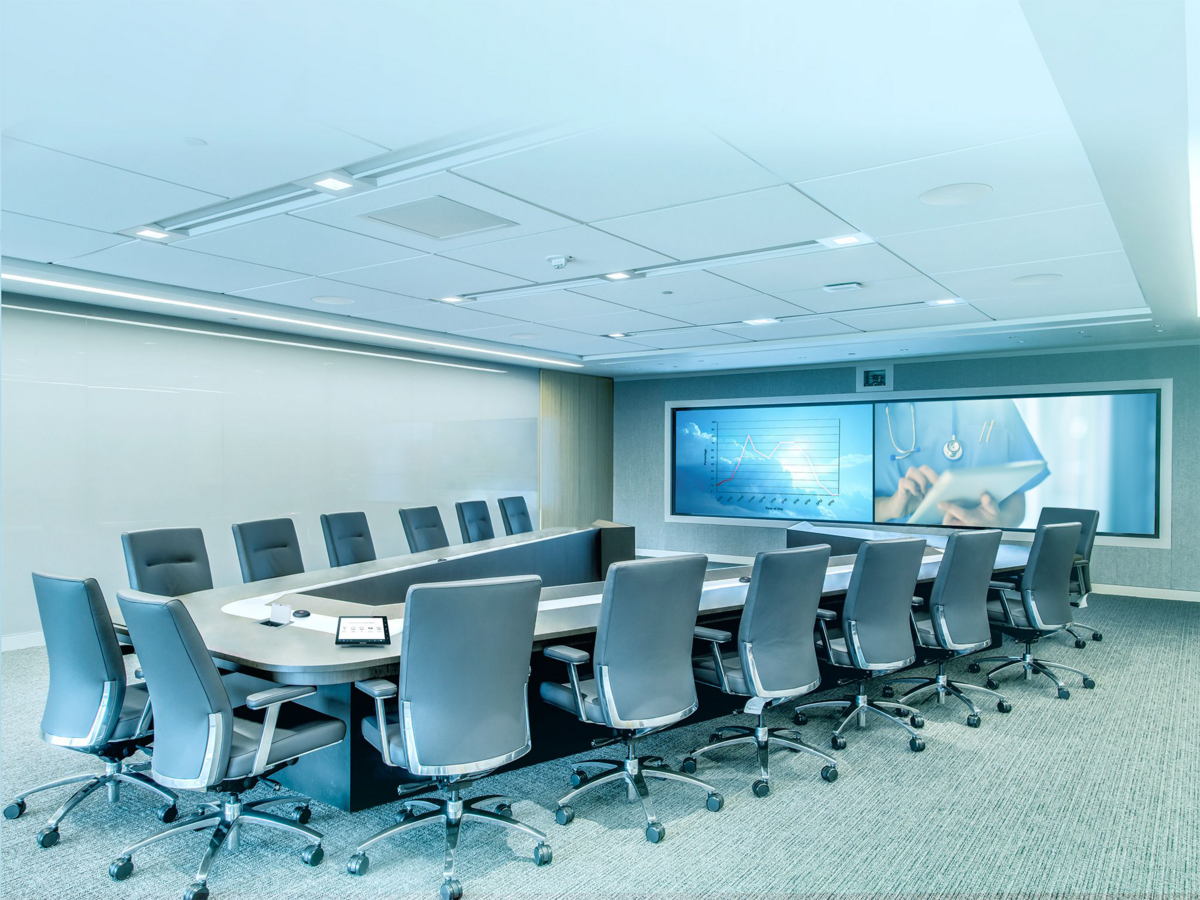 Digital Whiteboards &
Patient Room door signage
Drive Care Coordination
Improve the overall patient and family experience with a digital patient whiteboard. Real-time information, provided from the patient's EMR, is presented to staff, patients, and their families. Digital whiteboards eliminate the need to manually update information on static whiteboards thereby improving patient safety.
Digital door signage outside the patient room avoids paper signage that can be outdated and inaccurate. Relevant patient information updated automatically ensures safer care for both patients and staff.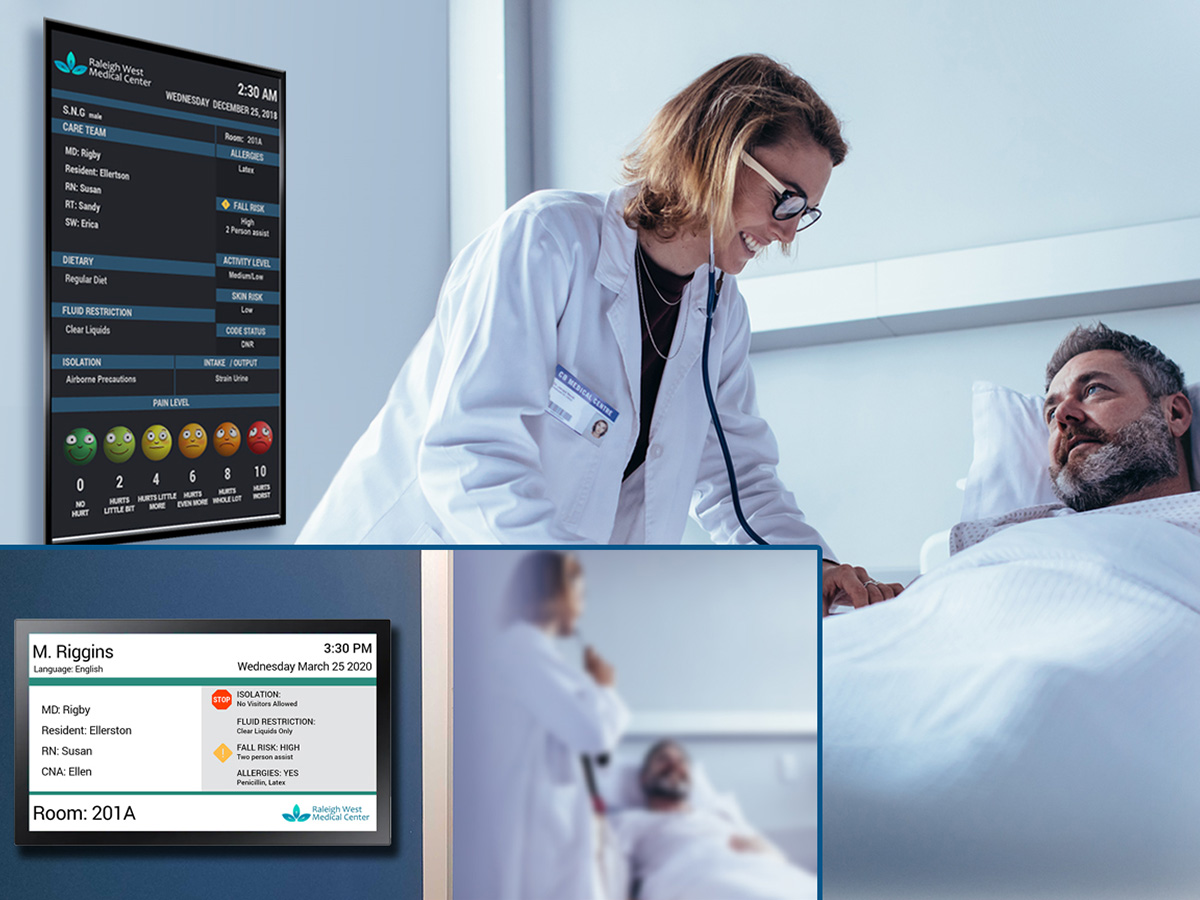 AV Solutions for Training Facilities
Classrooms, tumor boards, simulation labs, and lecture halls help bring medical teams together physically and virtually to advance patient treatment and care.
Immersive audiovisual technology for medical training and diagnostic consultations help hospitals and health systems stay competitive.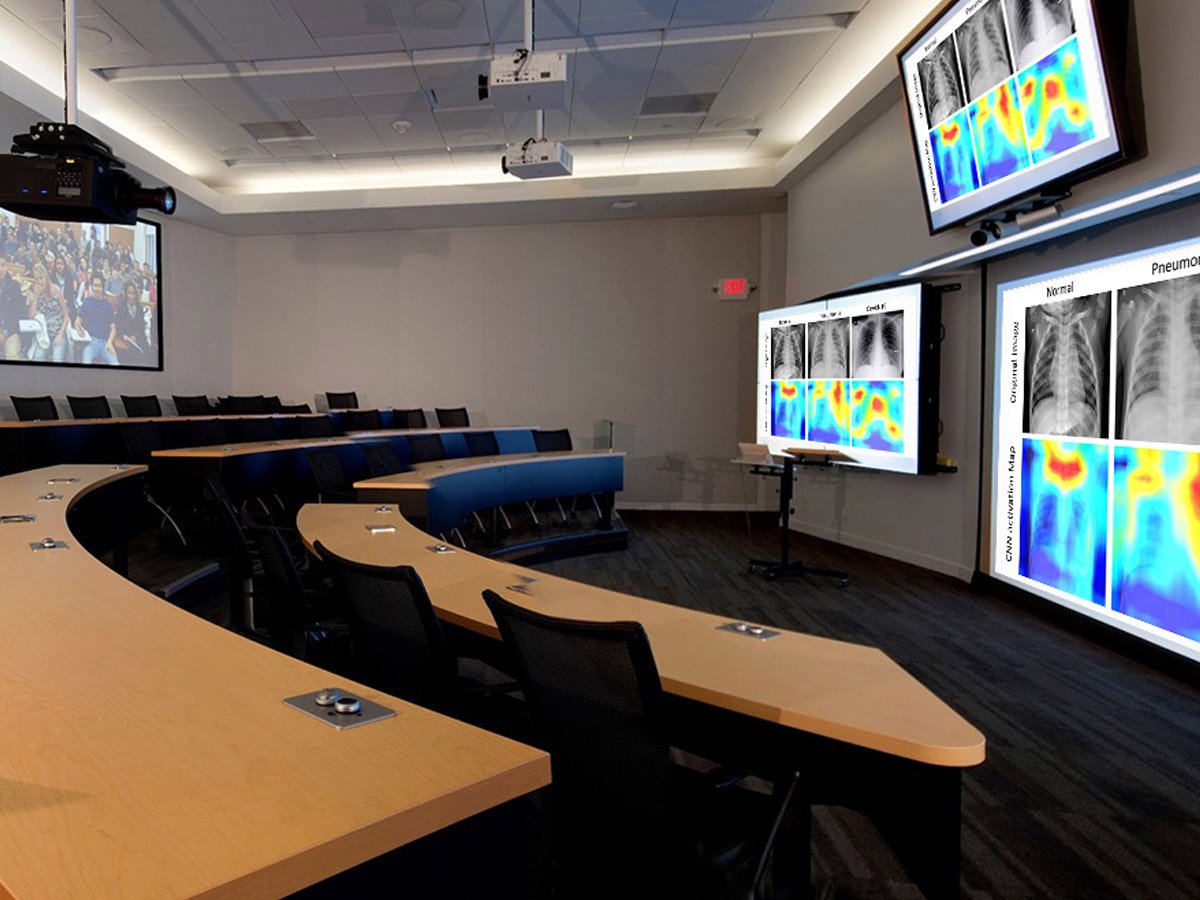 Display Solutions for Healthcare
From the patient room to the hospital boardroom, Avidex has a well-established reputation for audiovisual performance excellence.
Outside the Patient Room
Today's modern healthcare facilities are digitally advanced with display solutions implemented throughout the medical campus to communicate their message and drive efficiencies.
Donor Recognition
Community Health Awareness
Foundation Activities
Cafe Menus
Nurse Station and Clinical Diagnostic Displays
Meeting and Presentation Spaces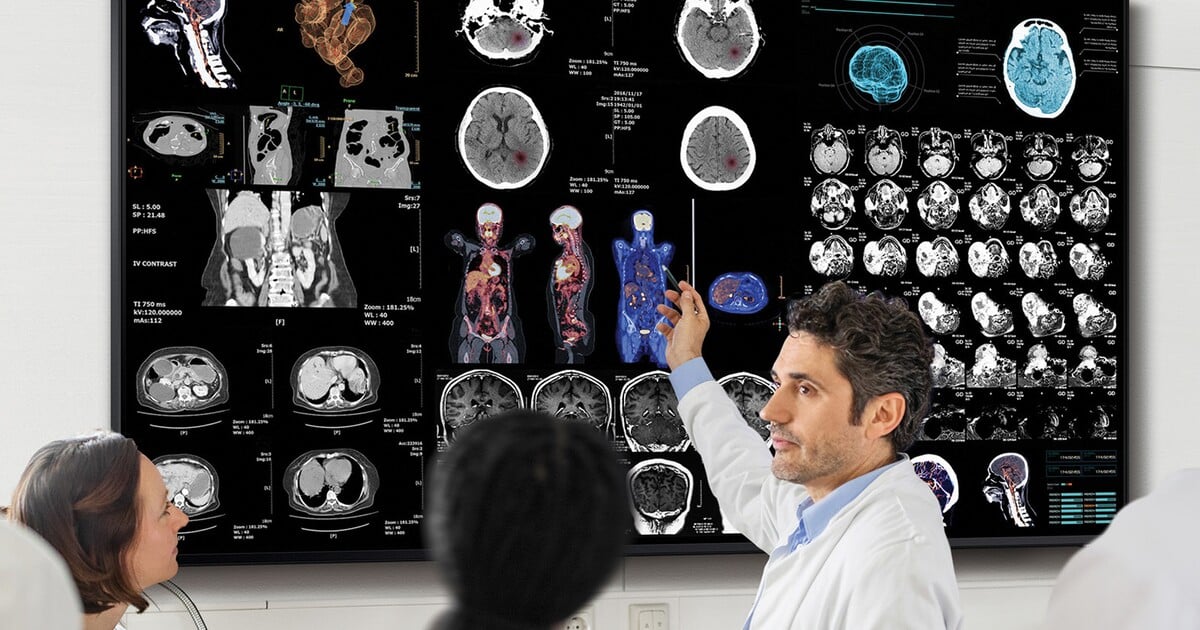 Inside the Patient Room
Avidex is the leading provider of healthcare-grade televisions and related services, content, and infrastructure solutions to hospitals and healthcare environments in the US. Patient room televisions enhanced with an interactive patient care solution plays an important part in patient outcomes and a familiar connection to home.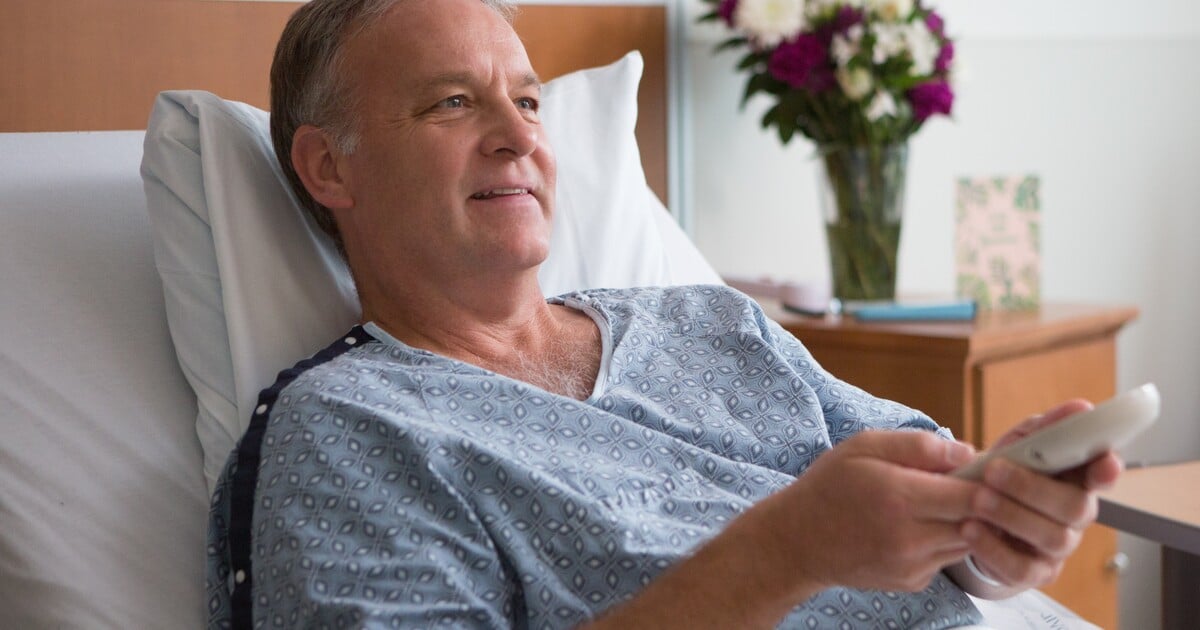 Hospital IPTV Systems
For Centralized Content Management
IPTV (Internet Protocol Television) offers an enterprise-wide cost-effective TV solution with substantial installation and system management advantages.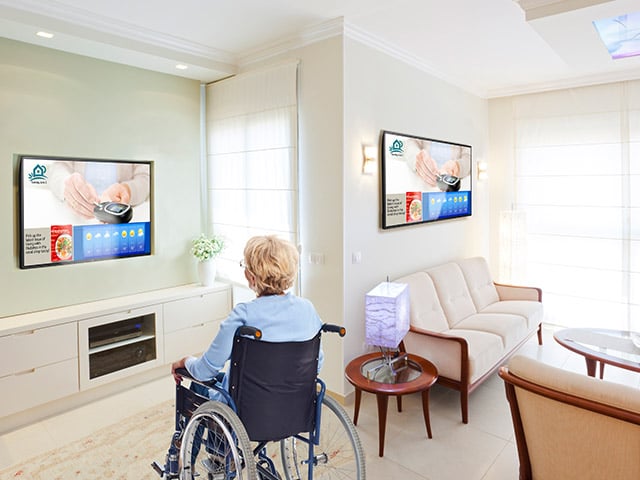 Best In Class Healthcare Clients
Some of the nation's top healthcare systems trust Avidex to be their audiovisual integration partner.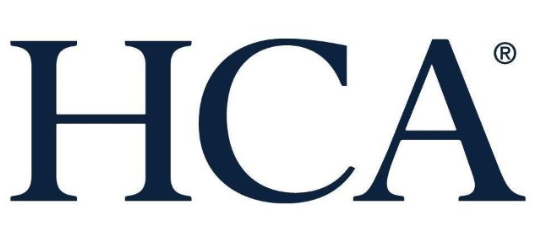 Avidex continues to demonstrate their strong TV and AV expertise in helping us design and install systems in our dialysis centers that support our patient care goals.
Terry McNeal, Real Estate Construction Servides
Our Avidex Outcomes Manager is a Rock Star who is always working to advance the patient experience at our hospital…He has been a huge support during the COVID crisis and a valuable member of our team. Thank you for all you do!
Director of Patient Experience
New York-Presbyterian Brooklyn Methodist Hospital
For a television to be installed in a patient room and integrated into our system for nursing calls through pillow speakers, I would typically have to manage more than three vendors...Avidex removed all the administrative and management of vendors off of me, thereby providing a turnkey solution.
David Ota, Sr. Director of Technical Operations
How can we help?
Connect with one of our audiovisual experts and start creating an unforgettable AV experience today!
Get In Touch
News, Innovation Blog, & Events
Stay up to date on the latest Avidex news, insights from our blog, and upcoming AV events.