Medication Education Improves Adherence & Outcomes
NewYork-Presbyterian Brooklyn Methodist Hospital
NOTE: In April 2022 TeleHealth Services was rebranded under the name of our sister company, Avidex. The consolidation of our brands significantly enhances our capabilities to create better experiences for patients, visitors, and staff. Case studies may have been written under our former name, but now reflect the Avidex brand.
Solutions Implemented
Avidex's Interactive Patient Engagement Solution
Platform - SmartTigr
Samsung Healthcare Grade LED Televisions
PDI 14" Touchscreen Swing Arm Televisions
Outcomes Management Support
Avidex 360° Service
On-Site Porter Service and Support
Mult-lingual Patient Education Videos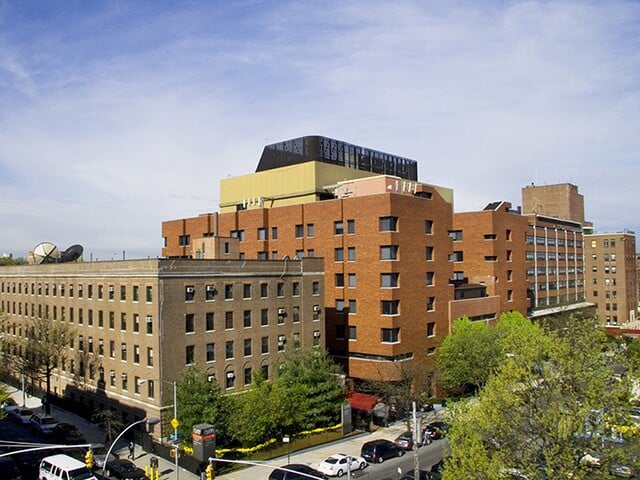 The challenge
Throughout the United States, medication non-adherence is one of the greatest factors contributing to poor health outcomes and avoidable health care costs (estimated $100 billion - $300 billion annually).¹ The majority of American adults, most of which have a chronic condition (more than 131 million or 66%)² use prescription drugs, and depend on multiple medications to manage their health. Unfortunately, many do not achieve the full therapeutic benefit of their medications due to non-adherence. Hospitals are especially concerned with this issue. A major study in medication adherence among adults showed that less than half of the subjects were able to list their conditions, name(s) of their medication(s), their purpose(s) or the side effect(s) at discharge.³ These limitations in health literacy compromise a patient's ability to adhere to their medication regimen and manage their conditions at home.
Among the most promising strategies for increasing medication adherence is improved communication between patients and health care providers. Recent research⁴ by the Script Your Future campaign revealed that 41% of study participants who reported increased patient-provider communication also attested to improved medication adherence; conversely, among those who reported decreased patient-provider communication, 24% said their medication adherence had worsened.
Though patient education is widely recognized as a shared responsibility among hospital clinicians, nurses play a key role as they comprise more than 70% of the healthcare workforce. Nurses have greater access to and spend the most time with patients in the hospital setting, where education is often delivered verbally at the bedside. This workflow proves challenging for nurses, as reflected in a recent study on nurses' attitudes and behaviors on patient medication education. More than 90% of nurses in the study reported that they believe it is important for patients to be educated about their medications prior to discharge from the hospital. However, on average they spent 5 to 9 minutes on medication teaching.⁵
Nurses report communication as the greatest challenge in teaching patients about their medications; specifically, language barriers and difficulty with assessing patients' understanding.⁶ Nurses also identify complex medication information as a major challenge; specifically, the inability to pronounce medications and confusion with generic names and multiple manufacturers, especially in the event of multiple medications.⁷ Not surprisingly, 100% of the nurses in the study indicated that using resources is important in medication education.⁸ In 2018, New York-Presbyterian Brooklyn Methodist Hospital (NYPBMH) reviewed key performance indicators related to communication about medications. Utilizing patient feedback, along with patient experience measures, NYPBMH identified medication education as an opportunity for improvement.
The Solution
In 2019, NYPBMH implemented a number of initiatives addressing medication education, including an inpatient tele-pharmacy program and opening an outpatient pharmacy for hospital and community prescriptions.
An additional resource NYPBMH put in place to support education was the SmarTigr interactive patient engagement system. After seeing success with using the system for patient education on safety topics, condition-specific information, and discharge care over the previous five years, hospital leaders recognized the potential for educating patients about their medications with video-on-demand.
The VUCA Health MedsOnCue video library was added to the SmarTigr system at the beginning of 2019, giving staff and patients access to 700+ videos on prescription drugs common to the acute care setting. The aim of the videos is to boost patients' health literacy in their medications by naming the drug, what it is for, and potential side effects. Videos are available in both English and Spanish, the top two most common languages spoken in Brooklyn.⁹ Findings from a recent study,¹⁰ which used VUCA Health MedsOnCue videos, support their effectiveness with a statistically significant improvement in primary medication non-adherence observed in patients who received a video compared with those who did not.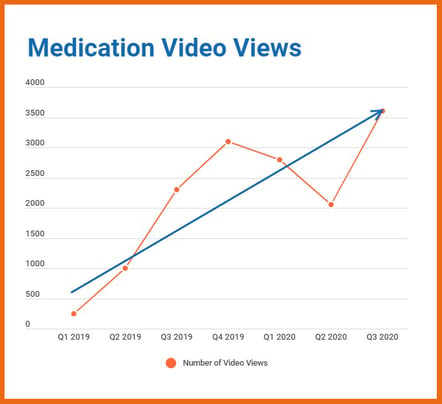 As medications are prescribed, staff assign the appropriate videos to patients through the SmarTigr StaffConnect dashboard on their workstations. The SmarTigr system interfaces with the hospital's Electronic Medical Record system (Cerner), which allows video views to be automatically recorded in the patient's EMR. This simple, streamlined workflow supports staff efficiency, allowing the care team to incorporate video education into their regular touchpoints with patients. Pharmacy Manager Stephanie Amirana, PharmD, BCPS, led the rollout of the VUCA Health MedsOnCue video library in March 2019, orienting staff to the new medication videos and training them on how to incorporate the content into bedside teaching. "The key message to staff was that these resources are meant to help you and save you time," explains Dr. Amirana.
"Staff were coached on using the videos during teachable moments, such as while the nurse is drawing up the medication for administration. That's an opportune time to start a dialogue with the patient about the medication, then show the video." The videos, which average 90 seconds in length, are concise enough to allow the nurse to observe the patient receiving the education, then perform teach-back while present at the bedside. "This helped us to standardize our approach to teaching patients about their medications," says Dr. Amirana.
The Results
As medication video views have steadily risen since implementation in the first quarter of 2019, NYPBMH has also reported increased inpatient experience scores related to this domain. "We monitor our patient experience data by calculating a star rating, similar to the data publicly reported by the Centers for Medicare and Medicaid Services (CMS)," explains Shannon Patterson, MSW, CPXP, Director of Patient Experience. "We increased from 2 stars in 2018 to 3 stars in 2019 in the medication communication domain. In quarter four of 2020, we achieved 4 stars out of a maximum of 5 stars and are very happy with our improvements in this domain."

In publicly reported HCAHPS scores for corresponding periods, NYPBMH observed a 2% increase in the HCAHPS measure Patients who reported that staff "Always" explained about medicines before giving it to them.¹¹ The alignment of these measures suggests that as staff increasingly incorporated medication education videos into their communication with patients; it served to support improvements in patient experience with medication communication.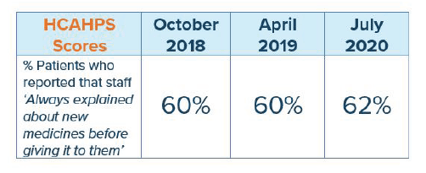 Beyond patient experience, medication adherence has a well-documented association with post-discharge outcomes. The World Health Organization (WHO) has stated that "increasing adherence may have a greater effect on health than any improvement in specific medical treatment."¹² In October 2020, NYPBMH observed improvements compared to 2019 measurements in readmission rates and 30-day mortality rates across multiple conditions,¹³ which may owe in part to the success of their initiatives to promote medication adherence.
In 2021, medication videos on-demand remain a key part of NYPBMH's ongoing strategy to improve medication adherence among patients. Ms. Patterson added that "On-demand patient education videos support our clinical teams in their patient experience efforts and also allow patients to more actively participate as key members of their healthcare team."
sources
1. Bosworth HB, Granger BB, Mendys P, et al. Medication adherence: a call for action. Am Heart J. 2011;162(3):412-424. doi:10.1016/j.
ahj.2011.06.007.
2. Health Policy Institute. n.d. Prescription Drugs Profile - Health Policy Institute. (online) Available at: https://hpi.georgetown.edu/rxdrugs/
(Accessed 8 December 2020).
3. Makaryus, MD, A. and Friedman, MD, E., 2020. Patients' Understanding of Their Treatment Plans and Diagnosis at Discharge. Mayo Clinic
Proceedings, 80(8), pp.991-994.
4. National Consumers League, 2015. Results Of The National Script Your Future Campaign Confirm Theories Of Link Between Communication,
Adherence. (online) Available at: https://www.scriptyourfuture.org/the-importance-of-communication/ (Accessed 6 December 2020).
5. Bowen JF, Rotz ME, Patterson BJ, Sen S. Nurses' attitudes and behaviors on patient medication education. Pharmacy Practice 2017 Apr-
Jun;15(2):930.
6. Bowen JF, Rotz ME, Patterson BJ, Sen S. Nurses' attitudes and behaviors on patient medication education. Pharmacy Practice 2017 Apr-
Jun;15(2):930.
7. Bowen JF, Rotz ME, Patterson BJ, Sen S. Nurses' attitudes and behaviors on patient medication education. Pharmacy Practice 2017 Apr-
Jun;15(2):930.
8. Bowen JF, Rotz ME, Patterson BJ, Sen S. Nurses' attitudes and behaviors on patient medication education. Pharmacy Practice 2017 Apr-
Jun;15(2):930.
9. Gerger, R., 2018. Here are the most common spoken languages in Brooklyn. The Brooklyn Daily Eagle. (online) Available at: https://
brooklyneagle.com/articles/2018/05/17/here-are-the-most-common-spoken-languages-in-brooklyn/ (Accessed 8 December 2020).
10. VUCA Health, 2020. Text Messages With Educational Videos Significantly Improve Patient Adherence To Newly Prescribed Medications
(online). Available at: https://www.prnewswire.com/news-releases/text-messages-with-educational-videos-significantly-improve-patientadherence-
to-newly-prescribed-medications-301135279.html (Accessed 8 December 2020).
11. HCAHPS reported scores for NYPBMH as documented in Definitive Healthcare database, www.defhc.com, sourced from Centers for Medicare
and Medicaid Services (online). Available at: www.medicare.gov/hospitalcompare (Accessed on 12/20/20).
12. Sabaté E, ed. Adherence to Long-Term Therapies: Evidence for Action. Geneva, Switzerland: World Health Organization; 2003.
13. Hospitalwide Readmission and 30-Day Mortality Rates, publicly reported for NYPBMH, Centers for Medicare and Medicaid Services (online).
Available at: www.medicare.gov/hospitalcompare (Accessed on 12/20/20).
1100man braid. Tumblr biodiesel tilde fingerstache.
How can we help?
Connect with one of our audiovisual experts and start creating an unforgettable AV experience today!
Get In Touch