Improving Nurse Communication and Breastfeeding Outcomes with Interactive Education
A Creative New Approach Proves To Be A Game Changer
Sentara Princess Anne Hospital
NOTE: In April 2022 TeleHealth Services was rebranded under the name of our sister company, Avidex. The consolidation of our brands significantly enhances our capabilities to create better experiences for patients, visitors, and staff. Case studies may have been written under our former name, but now reflect the Avidex brand.
Solutions Implemented
SmarTigr Interactive Patient Engagement System
Samsung Healthcare Grade LED Televisions
Customer Success Management
Avidex 360° ServiceTM and Support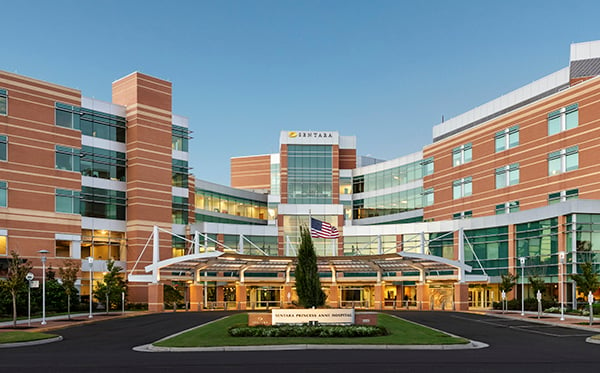 The Challenge
Per the American Academy of Pediatrics, babies should be fed nothing but breast milk through the first 6 months, with continued breastfeeding for at least one year.1 A strong evidence base exists for the health benefits of breastfeeding. Mothers who breastfeed have a lower risk of postpartum depression as well as breast and ovarian cancers.2 Breastfed babies have significantly lower risks of obesity, diabetes, respiratory and ear infections; they require less trips to the doctor, are hospitalized less frequently, and are less likely to die from sudden infant death syndrome (SIDS).3 Findings from a study of 84 vaccinated new mothers suggest benefits that are particularly relevant during the current COVID-19 pandemic, as strong production of IgA and IgG antibodies was detected in the breast milk of 97% of the women six weeks following vaccination.4

Support during hospitalization is critical to helping new mothers succeed with starting and continuing to breastfeed, but the most recent national Maternity Practices in Infant Nutrition and Care (MPINC) Report by the CDC suggests there is room for improvement. Per the 2018 MPINC Report, breastfeeding teaching and demonstration is recognized as a key element of Institutional (Hospital) Management impacting newborn feeding, yet only 61% of hospitals gave the ideal response when surveyed.5
In 2019, Sentara Princess Anne Hospital in Virginia Beach, VA, targeted a number of maternal and infant outcomes for improvement. Jennifer "JJ" Toombs, BSN, RNC-MNN, Team Coordinator for Mother-Baby/Nursery/NICU, assumed the lead role in the effort. In seeking to better define the problem and explore potential solutions, she noted common themes encountered during rounding. "I often heard from patients that they weren't very confident about breastfeeding and caring for their babies at home. They also didn't understand their plan of care very well," states Ms. Toombs. "Staff recognized those same challenges and wanted a more standardized approach to communicating with patients."
The Solution
A recent study showed that video education supported a statistically significant increase in breastfeeding knowledge and self-perceived comfort and confidence for healthcare providers in assisting mothers with common breastfeeding problems.6 Ms. Toombs recognized that the hospital's interactive system and educational video library were resources that could help nurses better educate patients about breastfeeding, but were underutilized by staff. "With delivery to discharge times down to 24 – 48 hours, some nurses were concerned there wasn't enough time to show videos to patients," explains Ms. Toombs. "Others felt that the available content didn't adequately address their patients' learning needs."
Ms. Toombs connected with Sentara's Client Outcomes Manager at Avidex, who brought new ideas to the table. One suggestion was the creation of custom video content to bridge content gaps. Encouraged by a recent study that indicated that custom-produced video content supported an increase in exclusive breastfeeding7, the team embraced the idea with enthusiasm.
Ms. Toombs engaged staff in preparing and narrating the script, as well as securing photos of the care team and unit to appear in the video. "They took ownership of the video production," shares Ms. Toombs. "Because they were actively involved in creating the content, they felt good about showing it to patients.
They knew it would answer the most commonly asked questions and communicate the important messages that new moms needed to hear." Particularly helpful were 'knowledge checks' - a series of questions and multiple choice answers – interspersed throughout the content to help patients gauge their learning. Two custom videos were developed and added to the existing Mother-Baby curriculum, which patients find displayed in their educational to-do list on their in-room televisions.

To help patients better understand their hospitalization and key events that occur prior to discharge, Ms. Toombs was excited to try another idea shared by her Client Outcomes Manager. "She suggested that we create a visual of the Delivery-to-Home journey," states Ms. Toombs. "We created a visual of the journey in a gameboard format. It's easy to follow, it engages different types of learners, and helps patients recognize the milestones in their care that bring them closer to going home." The gameboard design has demonstrated a number of benefits for adults, including enhanced interpersonal interactions, increased motivation, and the promotion of self-learning.8

A total of seven educational videos and instructions for accessing Sentara's interactive system were added to the gameboard, prompting patients to view their assigned videos at opportune points throughout the hospital-to-home journey. The backside of the gameboard included additional videos of interest, as well as instructions for how to view the videos again at home. The resulting handout of the gameboard was added to the admission packet and is now the first item that staff reach for to review with patients at the start of their hospital stay. In addition, a survey was developed and added through the interactive system to assess patients' success and satisfaction with the videos and gameboard approach. Like the videos, patients find and complete the short survey through their in-room TVs. Survey response notifications are sent to Ms. Toombs for sharing with the team.
The Results
The Delivery-to-Home journey map and video curriculum were formally implemented in January 2020, with impacts observed almost immediately. While the short period of time from delivery to discharge was previously perceived as a challenge, the staff was pleasantly surprised to find that use of the videos offered timesaving benefits.
"Staff members could tell a difference," explains Ms. Toombs. "For instance, our lactation consultant noticed patients who had watched the breastfeeding videos were better prepared when she came to visit them. She observed that patients were already trying out the hand positions they had seen demonstrated in the videos, and they had questions ready to ask. It made her visits more efficient." 9
Witnessing the positive impacts of video education, nurses on the team were newly motivated to capitalize on teachable moments – like induction. "It can take several hours for patients to respond to induction while in Labor & Delivery, so it's an opportune time for them to start on their video to-do list," states Ms. Toombs. As team members shared their wins with the Delivery-to-Home initiative, Ms. Toombs observed improvements in a number of qualitative measures which reflected the anecdotal reports of success. Survey results10 from the interactive system revealed that 97% of patients discharged in 2020 believed the gameboard and videos:
Improved communication with their nurses

Increased their confidence as new mothers

Helped them to better understand their plan of care and what to expect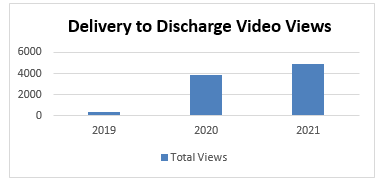 While results for these measures have remained consistent throughout 2021, an encouraging improvement was noted in responses to an additional survey question. When asked if the videos influenced desire to breastfeed, 27% of patients surveyed responded favorably in 2020. That percentage has increased to 32% in patients surveyed throughout 2021
Likewise, a pre- and post-intervention analysis of HCAHPS11 scores for the Mother Baby/Labor & Delivery units demonstrated improvements in several measures, including:
Nurses explained things understandably

The staff took preferences into account

Talked about help the patient would need

Understood purpose of medications

Likelihood to recommend the hospital

Hospital rating
The new process for educating and preparing patients for discharge seemed to have impacts beyond the hospitalization. In reviewing utilization of the hospital's web-based, at-home video content, a 222% increase in unique logins was observed after the initiative was implemented. An increase of 192% in total logins and a 128% increase in video viewing activity was also noted, suggesting that patients who are exposed to video education in the hospital are more likely to access and engage with video education resources at home.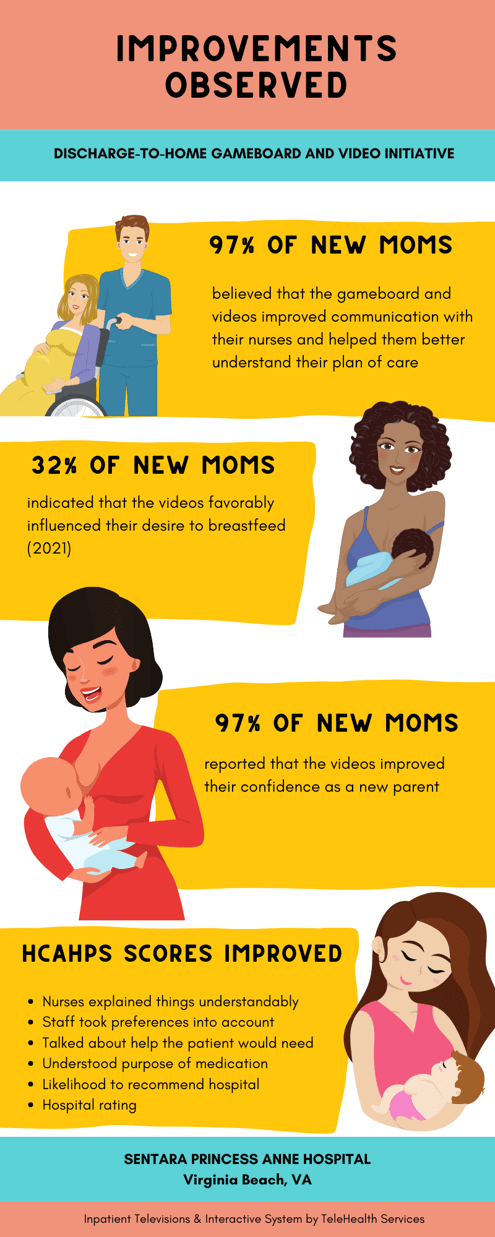 Enthusiasm for the Delivery-to-Home journey map and video education initiative remains high nearly two years after implementation. "Video views have steadily increased over time, even throughout the COVID pandemic," states Ms. Toombs. The team's next goal for the initiative is to translate their custom videos into Spanish for patients who indicate it is their preferred language.
The news of the Mother-Baby unit's success with the gameboard– and the impact on outcomes – has swiftly traveled throughout the Sentara Healthcare System. Mother-Baby teams at other Sentara hospital campuses are gearing up to implement the gameboard and videos, while peers in other service lines have taken interest as well.
"Surgical Services wants to develop a gameboard with video education for their patients, so our Avidex Client Outcomes Manager is helping them adopt the same approach," states Ms. Toombs. "I consider her a part of our team. This wouldn't have happened without her."

While Sentara Princess Anne Hospital continues to fine-tune the initiative and track success through metrics, Ms. Toombs notes that there are many secondary gains that can't be captured in numbers.
"Recently, I visited a patient who had delivered a baby at 30 weeks and was understandably anxious," she states. "I told her 'you've had an unusual hospital stay and so much of it has been beyond your control. Now you can focus on things within your control. Can I show you a video that will help you learn to breastfeed your baby?' She welcomed the video and was happy to watch it. This was more than just education; it was empowerment."
Sources
2011. CDC Vital Signs: Hospital Support for Breastfeeding. Atlanta, GA: Centers for Disease Control and Prevention, p2.
2011. CDC Vital Signs: Hospital Support for Breastfeeding. Atlanta, GA: Centers for Disease Control and Prevention, p2.
2011. CDC Vital Signs: Hospital Support for Breastfeeding. Atlanta, GA: Centers for Disease Control and Prevention, pp.1-2.
Perl SH, Uzan-Yulzari A, Klainer H, et al. SARS-CoV-2–Specific Antibodies in Breast Milk After COVID-19 Vaccination of Breastfeeding Women. JAMA. 2021;325(19):2013–2014. doi:10.1001/jama.2021.5782
Centers for Disease Control and Prevention. Virginia 2018 Report, CDC Survey of Maternity Practices in Infant Nutrition and Care. Atlanta, GA. April 2020
McLeod, Kathryn et al. "Using Videos to Teach Medical Learners How to Address Common Breastfeeding Problems." MedEdPORTAL : the journal of teaching and learning resources vol. 17 11136. 1 Apr. 2021, doi:10.15766/mep_2374-8265.11136
Anita A, Ramli N. Video Development to Increase Coverage of Exclusive Breastfeeding Promotion in Aceh Province, Indonesia. Open Access Maced J Med Sci [Internet]. 2021 Mar. 11 [cited 2021 Sep. 7];9(E):229-34. Available from: https://oamjms.eu/index.php/mjms/article/view/5771
Noda, S., Shirotsuki, K. & Nakao, M. The effectiveness of intervention with board games: a systematic review. BioPsychoSocial Med 13, 22 (2019). https://doi.org/10.1186/s13030-019-0164-1
TeleHealth Services Interactive System at Sentara Princess Anne Hospital video-on-demand utilization reports 2019, 2020, and 2021 (annualized).
TeleHealth Services Interactive System at Sentara Princess Anne Hospital survey trend reports 2020 and 2021.
2018-2021 HCAHPS Scores for Sentara Princess Anne Hospital's Mother-Baby and Labor & Delivery units
How can we help?
Connect with one of our audiovisual experts and start creating an unforgettable AV experience today!
Get In Touch