- Project Profile -
Avidex (Raleigh, NC Office)
Standardizing Modern Workplace Collaboration
Take an exclusive look at our new office located in Cary, NC (Raleigh/Research Triangle). We stepped into the role of client and integrator to create a collaborative and modern workplace for our team.
The Challenge
When Avidex relocated its corporate headquarters they welcomed the opportunity to create a modern and collaborative workspace for their team and a technology showroom for partners and clients. In keeping with their culture of collaboration and mission to enhance the way people work, learn, and live Avidex, as well as, upfitting the new workplace with user-friendly, standardized, and reliable audiovisual technology of collaboration and conference spaces to match the company's nationwide reach.

Fortunately, they didn't have to go far to find an experienced and talented AV integrator. The Avidex team approached their own project with the same consultative approach we use for all their clients: understanding the goals for today and the future and building a solution that exceeds those goals.
The Solution
Stepping across roles to act as both client and provider was unusual, but ultimately beneficial for the Avidex team, allowing them to inhabit a valuable perspective most design and integration teams rarely practice. The team examined each space in terms of environment, function, and user intent, with a priority on creating a modern standardized experience.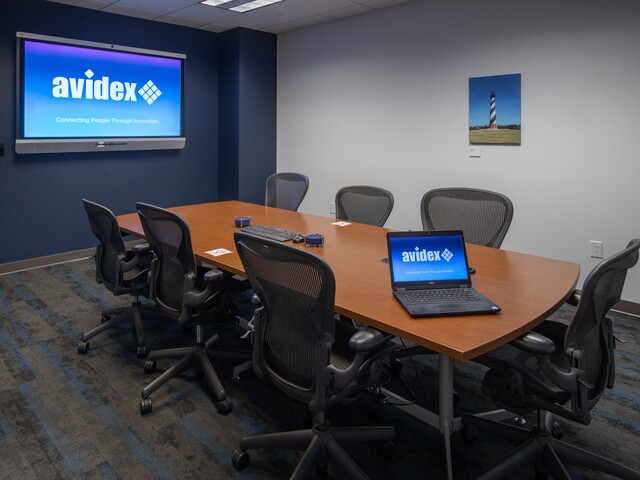 "From a technology standpoint, the things that we look for are making sure that the technology is effective and to make sure that the technology doesn't get in the way of people. We really look at the entire environment and then fit the technology to that. All of that comes together in the design. And really the key piece of that is listening to how the users want to meet in the room." - Jim Colquhoun, Avidex Vice President of Technology

Like with all Avidex client projects, technology partners played key roles in bringing the project to fruition. Technology from Crestron Electronics, Extron, Legrand AV, Newline Interactive, Poly, QSC, Samsung Electronics America, Shure Incorporated, the Yamaha Corporation was used for quality and consistency across all spaces.

Avidex Easyrooms were installed to create a standardized experience from huddle space to conference room.

An EasyRoom is a collaborative AV solution that prioritizes an easy user experience and flexible functionality. EasyRooms are functional with all major soft codecs and meeting software and allow presenters and team members to launch applications by pressing a single button. In the event of a technical issue, monitoring software notifies the IT team immediately, minimizing equipment downtime and lost productivity.

"There are four rooms that are specifically EasyRooms. We, from our centralized Helpdesk, can keep our own rooms running correctly, full time and if there's a problem, we know about it."

Other additions included thermal cameras for visitor temperature checks and an employee training center that required a particular solution to account for the room's unique shape.

"The training room is an interesting space because it is wider than it is long. It's designed in a way that every seat sees everything. The far-end view is as if you were sitting in the room."

Ultimately the training space is dynamic and can accommodate groups of various sizes. "There's a divisible wall that opens and exposes a much larger room beyond (the training room) which we can add not only the sound system but also ancillary displays to augment a much larger group," said Colquhoun.

All of these upgrades have actualized Avidex's culture and values of enhancing the way people work, live and learn, ultimately allowing the company to continue supplying corporate, healthcare, and education entities with the same collaboration enabling AV solutions.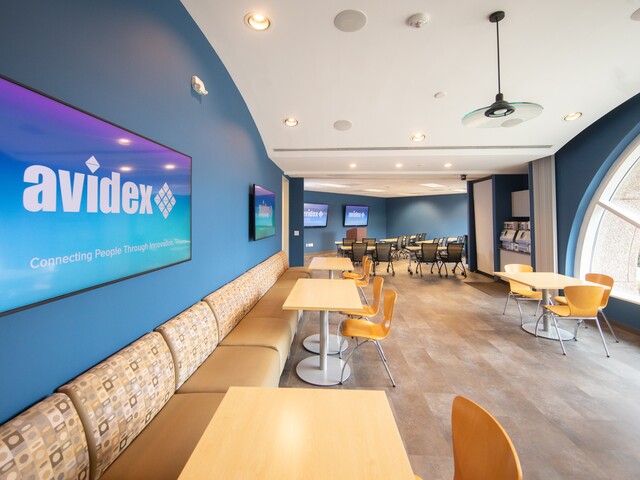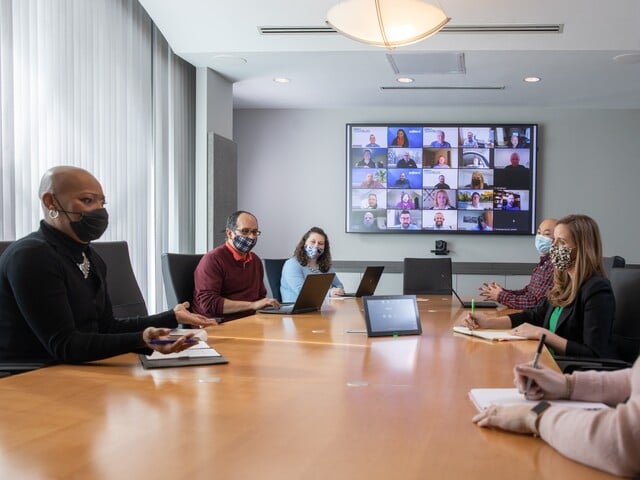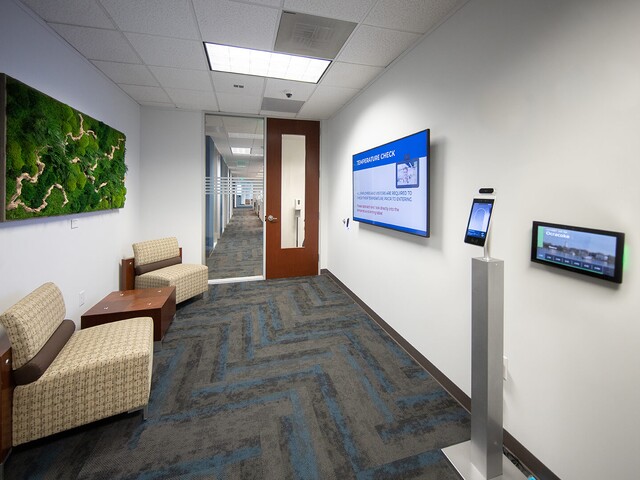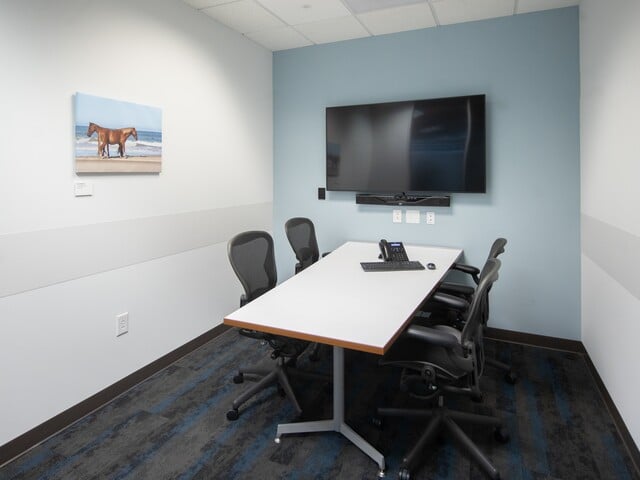 How can we help?
Connect with one of our audiovisual experts and start creating an unforgettable AV experience today!
Get In Touch